​NAACP - Black Lives Matter 

​

Shootings of police officers in 2016, sometimes claimed to be in retaliation for police shootings of black citizens, led to a Blue Lives Matter movement. The NAACP has the greatest respect for the job of police officers and all emergency responders. When called on to participate in a BLM protest in Blacksburg on July 11, members made a point of speaking with police officers, and made sure they knew that in honoring Black lives, we also wanted to honor "Blue" lives as well. While it is important that all lives matter, it is the job of the NAACP to educate and act on issues where the rights of
minorities in this country are especially in danger. Last October President Obama said, "I think that the reason that the organizers used the phrase Black Lives Matter was not because they were suggesting that no one else's lives matter ... rather what they were suggesting was there is a specific problem that is happening in the African American community that's not happening in other communities." That is exactly the point that the NAACP stands for. Please join us in showing support for Black and Blue lives, without any disrespect for all lives!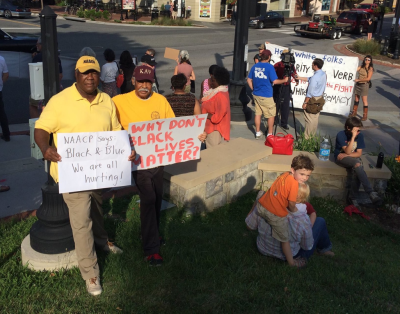 NAACP - Candlelight Vigil
The Local branch of the NAACP has been active in the Black Lives Matter movement since its beginnings in August 2014. In December 2014, the VT branch of the NAACP, in coordination with the VT Black Student Alliance and the local NAACP, staged a week of candlelight vigils on campus. These included marches across campus, and a 4½ minute "die-in" in the Squires Student Center to commemorate the 4½ hours that Michael Brown's body lay in the street after his death. After the die-in, an open-mic teach-in was held
in Squires so that students, especially African-American students, could share their experiences of racism on campus and off. In 2015 racially motivated shootings occurred in Charleston SC, and in Roanoke VA. While these events have brought attention to oppression that has always existed, the attention has increased the desire for open conversations about race, and it has increased the need for good people to make themselves heard.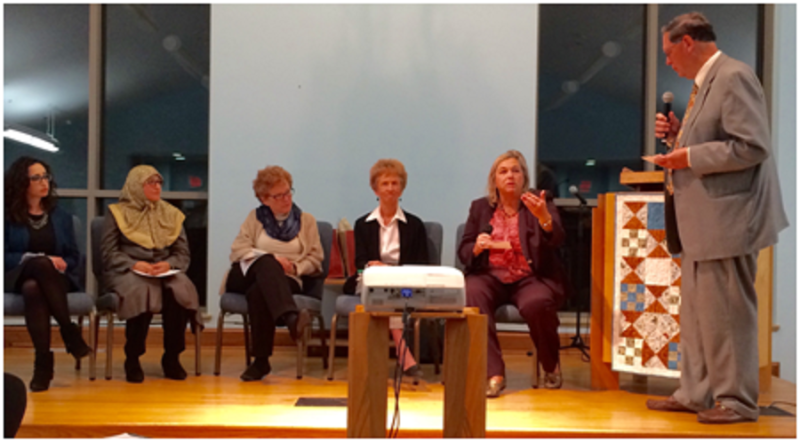 Healthcare Access Panel (l-r):
Rachel Gross (Judaic Studies, VT)
Fereshteh Sarafraz (Islamic Azad
University, Teheran, Iran)
Rev. Kathy Carpenter (NAACP)
Sister Maria Timoney (SW VA Legal Aid,
Marion, VA)
Karen Cameron (VA Consumer Voices
for Healthcare)
Rev. Charles Swadley (Moderator, VA
Interfaith Center for Public Policy)

NAACP - Health Care Access
On October 26, the branch partnered with three local organizations to sponsor a "Call to Action: Healthcare Access as a Moral Imperative." The event, held at the UU Congregation Meeting House, promoted the need for affordable access to healthcare, and discussed the provisions of the Affordable Care Act. After a documentary about the challenges of getting
care in rural areas, and a personal story from a resident of Bland County, an interfaith panel discussed how health care is viewed from each perspective: Jewish, Muslim, Protestant, and
Catholic. The documentary and personal story emphasized how those in need do not want toask for help or rely on spotty charity.