NAACP—Defending Your Rights

Last fall the national NAACP organized "America's Journey for Justice" to commemorate
the 50th anniversary of the 1965 Voting Rights Act and to remind Americans of the
continuing challenges to ensuring the voting rights of all. Several members of our branch
attended the culmination of this event on October 5th in Washington DC. They met with staff
of Representative Bob Goodlatte's office to share their concerns. Goodlatte is responsible
for holding hearings on violations of the Act.
The 2015 school year at Christiansburg High School began with several students bringing
Confederate battle flags onto school property. This was forbidden by the school code of
conduct and led to numerous heated discussions. The local branch sent a letter of concern to
the School Board and Superintendent, and then many members attended the October 20th
board meeting to show or voice their concerns. We were pleased that the school board stood
behind the CHS administration and extended the code to all county schools.
On October 26, the branch partnered with three local organizations to sponsor a "Call to
Action: Healthcare Access as a Moral Imperative." The event, held at the UU Congregation
Meeting House, promoted the need for affordable access to healthcare, and discussed the
provisions of the Affordable Care Act. After a documentary about the challenges of getting
care in rural areas, and a personal story from a resident of Bland County, an interfaith panel
discussed how health care is viewed from each perspective: Jewish, Muslim, Protestant, and
Catholic. The documentary and personal story emphasized how those in need do not want to
ask for help or rely on spotty charity.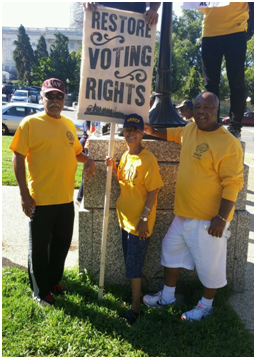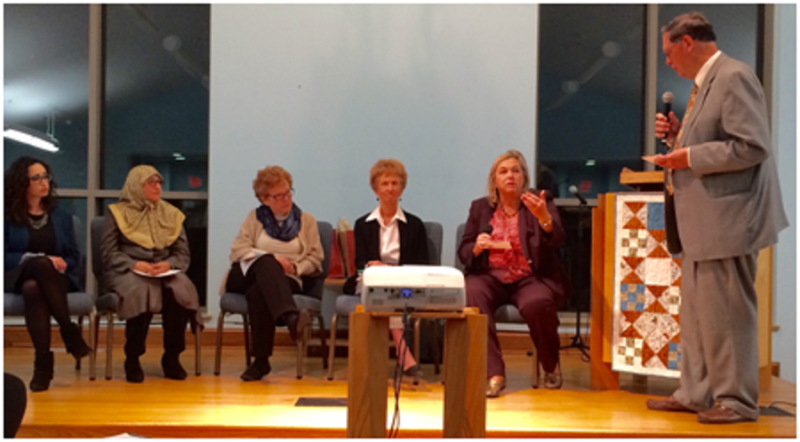 Photo courtesy of Penny Franklin
Healthcare Access Panel (l-r):
Rachel Gross (Judaic Studies, VT)
Fereshteh Sarafraz (Islamic Azad
University, Teheran, Iran)
Rev. Kathy Carpenter (NAACP)
Sister Maria Timoney (SW VA Legal Aid,
Marion, VA)
Karen Cameron (VA Consumer Voices
for Healthcare)
Rev. Charles Swadley (Moderator, VA
Interfaith Center for Public Policy)
Photo courtesy of James C. Klagge

Each year the Youth Council co-sponsors the Juneteenth Celebration at
Rosa Peters Playground. They provide historical presentations, organize
games and competitions, and sell food to raise money to support other
activities. At the annual MLK Celebration in January they usher, provide
music, poems, and historical background in tribute to Dr. King. During the
rest of the year they meet to study African-American history, celebrate
diversity through their annual International Dinner, and participate in
leadership training activities. Through the Samuel H. Clark Memorial
Scholarships, high school graduates who were Youth Council members, or
whose parents or grandparents are NAACP members, can receive a grant for
post-secondary education. The 2016 recipients are Noah Franklin
(CHS/Ferrum), Tori Gray (Radford HS/UVA), and Aysia Lewis (CHS/New
River CC). Congratulations! Applications are due by April 1, 2017.
Encourage your HS senior to apply! Contact Debbie Travis for information.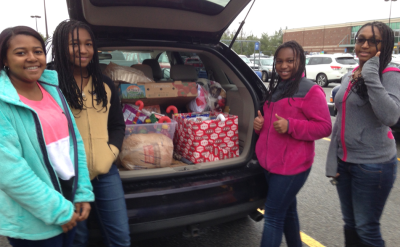 ​
Youth Council members (l-r: Allison Foster, Samaya
White, Jasmyn White and Zamora White) buy food and
gifts for "Blue Santa" Project at Christmas for those in
need. Photo courtesy of Debbie Travis.
Photo courtesy of Debbie Travis.